We urgently need to raise funds.

Please donate to help us achieve the remaining funds to complete the section across the retail park before 2025.
Whitehouse Wharf restoration is complete!
Come and enjoy the new space either on land or water!
Finishing touches are complete with 5 wonderful benches to take a break and admire the views.
Walk the line with us in September was a great success!
September and we walked the beautiful route of the canal. We were again lucky with perfect walking weather, sunny with a cool breeze. A smaller group inspected our just completed new development at Whitehouse Wharf before joining the main group by the Scout Hut. Picnic stop at California before the longer trek through Woodgate Valley and ending at the Leasows for a very welcome cup of tea/coffee and lots of cake. Huge thanks to the guides: Peter, Simon, Justin and Neil with photographs by Justin and Tony. Extra special thanks to Helen for providing tea and cakes. Not of course forgetting to thank the walkers who helped ensure a great day out.
Our latest newsletter available here!
The Restoration of Dudley No.2 Canal, also known as Lapal Canal
Historical Background.
Our project is the restoration of an urban canal. The Dudley No. 2 Canal was authorised by an act of parliament in 1793. The 12-mile-long canal was built from 1794 to 1798. A remarkable achievement which includes a 60 foot high embankment and a 2.2 mile long tunnel.
It was built to bypass Birmingham and take coal from the Dudley area to London. It joined the Worcester & Birmingham Canal in Selly Oak. This junction became an important industrial centre that gave rise to the Birmingham suburb of Selly Oak. The canal is one of very few remains of Selly Oak's Industrial past and the community is very keen to retain this important part of our heritage.
Due to cost savings made during its construction, the tunnel suffered a partial collapse in 1917 and, with competition from the railways, it was not reopened. Both sides of the tunnel continued in use until the mid-50's, when the 5 miles of canal we are restoring was abandoned.
The Lapal Canal Trust was formed in 1990 by canal and environment enthusiasts to protect the route and to champion the restoration. In 2007 Atkins completed a consultancy report, this showed that the restoration was feasible and recommended a new route over the top of the tunnel. The new route would be of more benefit to the public and less costly, the old tunnel would not meet current safety standards and expensive rebuilding would be needed. Most of the route is owned by the Parks department of Birmingham City Council and the western Leasowes section owned by Dudley City Council.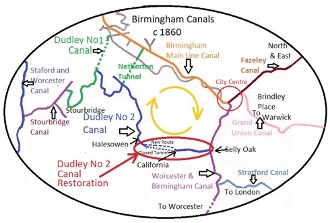 ---